Florida Mahi Trucker, Sea Foam & Floral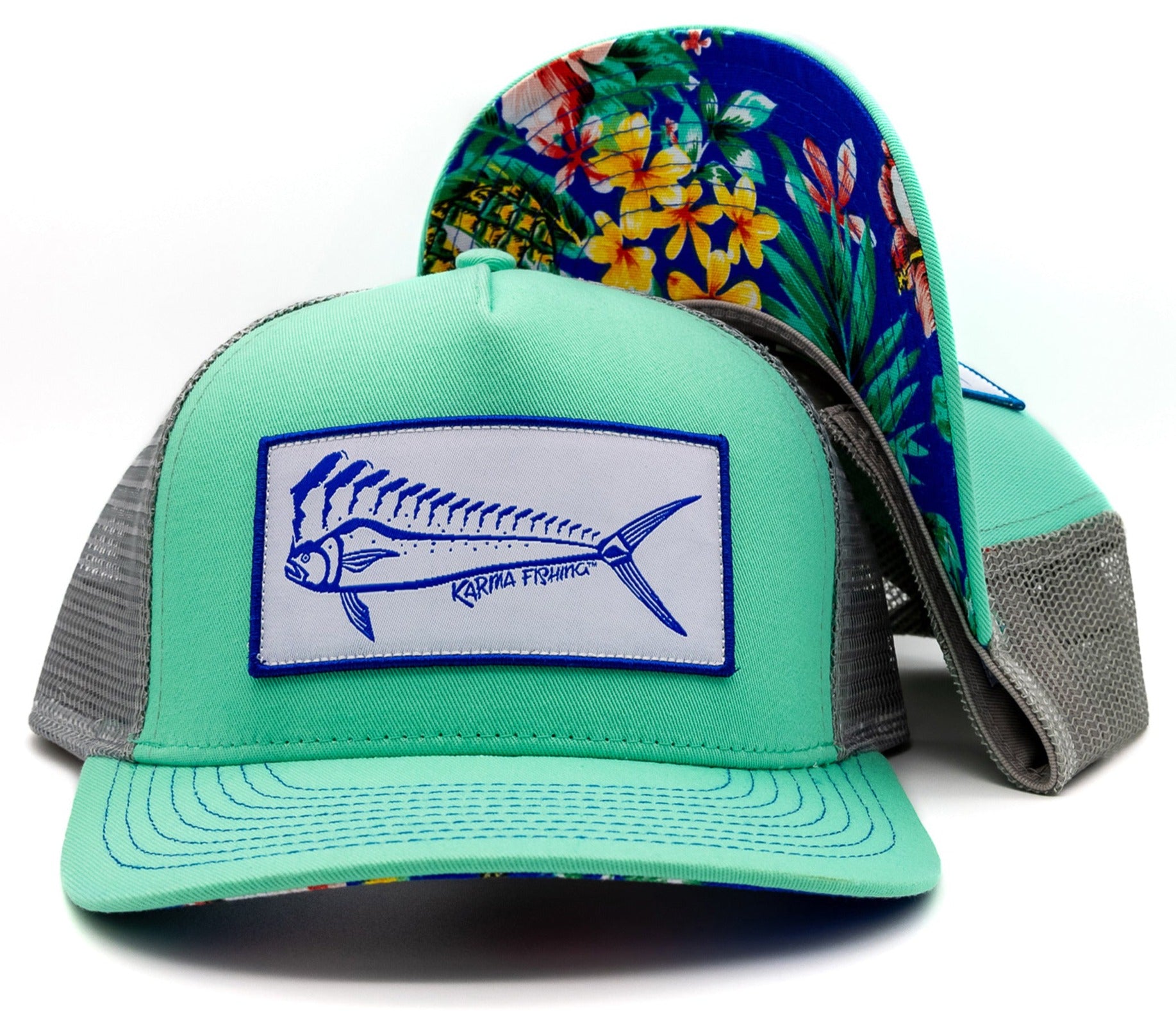 Designer: Karma Fishing Company
Karma Fishing was founded with an idea for a boat trashcan to help keep trash out of the ocean, and donate 10% of profits to "clean ocean" organizations.
We then started putting our logo on colorful hats like this one, thus transforming us into the brand we are today. 
Each product has been thoughtfully crafted to be a symbol of quality and style, and the vehicle to keep us moving towards our founding goal.
Fit- High Crown, 5 panel with the classic trucker fit.
Sea Foam/Electric Blue/ Floral Undervisor. 
Logo/Design- The Florida Mahi logo woven/stitched on patch adds a cool and hidden dimension that will have people talking.
XL is 7 5/8"
Regular is 7 1/8"
Kid/small fit is 6 3/4"
All with 3 open/4 closed snaps.
Alternative- See our "low crown" 6 panel collection if you prefer a "ball cap" fit.

Awesome
Just got this one and the black with floral print under the brim, one for me and one for my son. Yo these hats are super Kool. Well made and fit is perfect. Thx!!!
That's so cool Craig, we'd love to see some pictures! Thank you for your business.
his and hers hats
Beautifull hats love them
Great Hat!
I did not have high expectations, I was just looking for a fun hat. I ordered online and received the hat quickly. The hat is great quality with a great fit and look. I'm glad I ordered two!
Finally! I have a large head and trucker caps are hit or miss. This is a hit
I was very excited to see an XL sized trucker hat. I can finally wear one without having it on the last or second-to-last tab. Looks like it's supposed to look and I don't have to look like Chunk from Goonies.